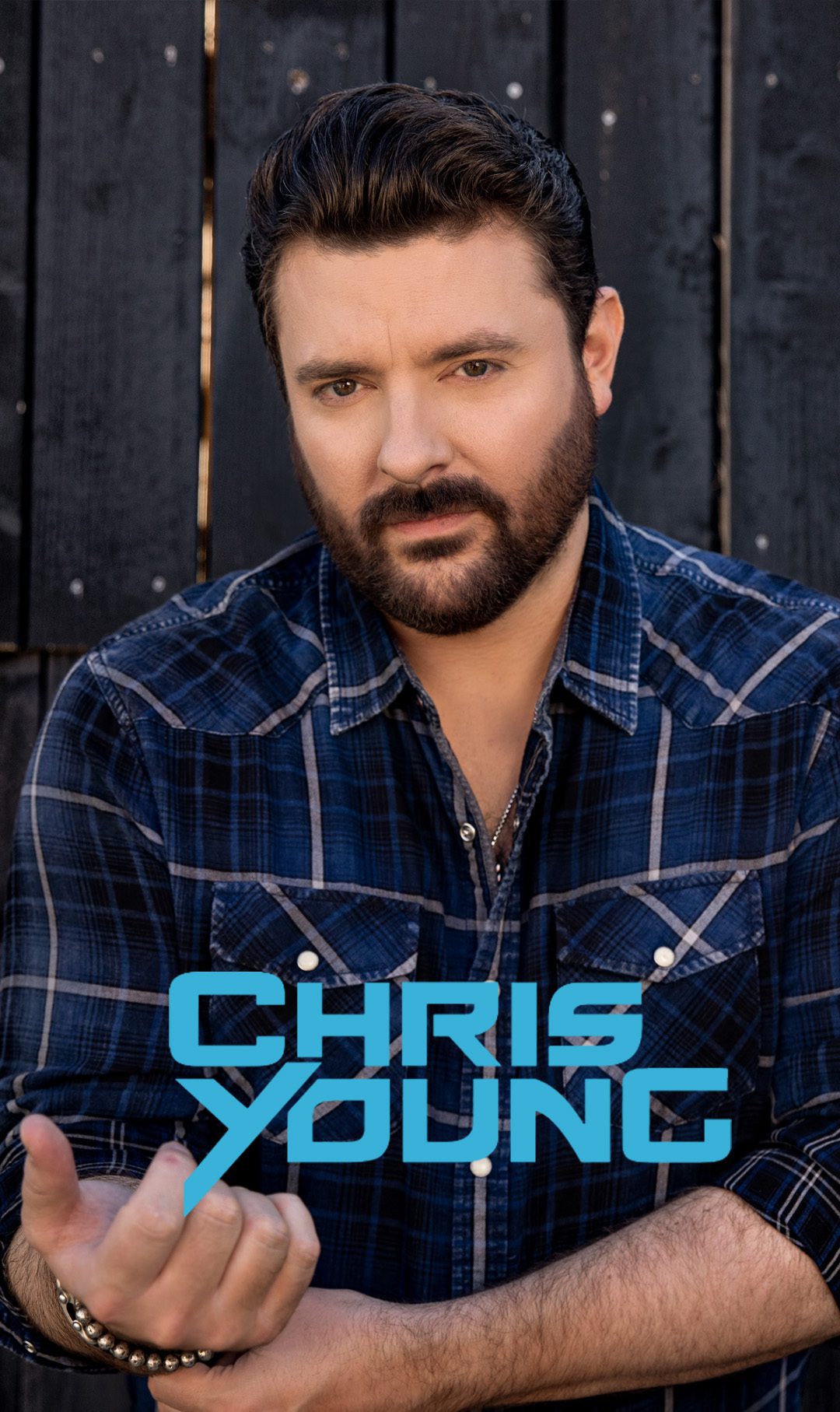 Pure Country music in the middle of Pure Nevada Farmland in Yerington, Nevada.
SATURDAY JULY, 23RD – 9:30PM
Chris Young has become a pillar in the country genre with his distinctive baritone and memorable storytelling. Since signing his record deal with RCA Nashville at the age of 20, the multi-platinum artist has amassed close to four billion career streams and 11 No. 1 hits, nine as a songwriter. Now, Young is gearing up for an exciting new chapter with the upcoming 2021 release of his eighth studio album.
A traditionalist who continues to push the genre forward with modern production, adept songwriting and captivating collaborations, Young's new single "Famous Friends" has the singer songwriter reflecting on his hometown crew with an assist from real-life friend and labelmate Kane Brown. The anthemic ode to his hometown has Young shining a light on his own friends with soaring guitar features and a pounding beat that will excel in the live setting.
Written with frequent collaborators Cary Barlowe and Corey Crowder while at a headline tour stop in Tampa several years ago, "Famous Friends" has Young namedropping real friends in his life. The three songwriters had already penned "Raised On Country" that weekend and after catching Young's live show, Barlowe and Crowder wanted to capture the crowd's energy and the singer's electricity onstage. Young embraced the idea and says the song gives him the ability to share how he grew up. He later sent the song to Brown who loved what he heard and Young suggested a collaboration on "Famous Friends."
"He and I are good buddies and being able to have that history together, it comes off as totallyreal – because it is," Young says of Brown adding his vocals to the track. "This is one of my favorite songs and it's a lot of fun, so I'm glad it's getting out there for people to hear it."
The song has Young mentioning Rutherford County, the area where he grew up in Tennessee,and Brown's hometown of Hamilton County before singing of their current locale — Nashville's Davidson County. "It means a lot because it's honest and it's the truth," Young says of the autobiographical lyrics. "Being able to sneak something like that into a song, that's a piece of me."
Young is no stranger to putting himself into his songs. The deeply personal "Drowning," released in 2019, was written about a close friend Young lost several years ago. He and co-writers Crowder and Josh Hoge were each thinking about someone they lost too soon when they sat down to pen the song. The poignant music video for "Drowning," in which Young made his directorial debut, includes people sharing photos of loved ones they've lost.
His performance of "Drowning" from CMT Artists of the Year struck a major chord with country fans and garnered the singer his first-ever award for CMT Performance of the Year at the fanvoted 2020 CMT Music Awards. Young's award-winning performance came about when he stepped in to perform for Brown, who lost his drummer Kenny Dixon in a car crash days before the awards show.
"I wrote 'Drowning' about a friend of mine, Adam, who passed away. Kane had just tragically lost a really close friend of his and that was really the meaning of this song," Young said in his acceptance speech. "It was a really difficult moment for me to get up there and play that knowingthat he was watching and knowing everything he was going through."
Young, who frequented writers rounds and sought out co-writers to work with before moving to Nashville in 2006, says he gets just as much joy out of songwriting as he does touring. Songs like "Raised On Country" embody the best of both worlds for the singer as he says the upbeat track encompasses what his live show is while also allowing him to tip his hat to his influences including Joe Diffie, Merle Haggard, Willie Nelson and George Strait, who he name drops in the song.
The late Diffie, who passed away in 2020, was the first artist to reach out to Young and thank him for mentioning him in "Raised On Country." "He was one of the people that I grew up listening to and loved his voice," Young says of Diffie. "Songs like 'Pickup Man' are fun and everybody knows all the words to that, and then to be able to turn around and give you 'Ships That Don't Come In.' The breadth of what he was able to do as an artist was always really cool.
It is this same versatility that Young promises to showcase on his upcoming studio album. He shares that "Raised On Country" and "Drowning" demonstrate the emotional spectrum of the project. "Those are very different songs," Young, who has over 13 million singles sold and 21 R.I.A.A. Gold, Platinum and Multi-Platinum certifications, says. "You might have something fun and anthemic that name drops a whole bunch of people that I grew up listening to and then on the other end of the spectrum you have something that is very deeply personal and talking about losing somebody too soon. We're going to be everywhere in between."
Young continues to pave his own path as a musician, recently releasing equally memorable songs like the uplifting "If That Ain't God" and nostalgic breakup anthem "Town Ain't Big Enough" featuring Lauren Alaina. Young has had an impressive track record with duets as his previous 2016 collaborations — "Sober Saturday Night" with Vince Gill and "Think of You" with Cassadee Pope — both went to No. 1. The success of those songs as well as his next two chart toppers, "Losing Sleep" and "Hangin' On," kept Young on the road as headliner for several years. In 2019, Young sold nearly 500,000 tickets throughout his Raised On Country World Tour playing for fans in three countries.
While waiting for touring to resume, Young has been focusing on songwriting and estimates he'spenned at least five songs each week since quarantine began. In addition to Barlowe, Crowder and Hoge, his new project features co-writes with Ashley Gorley, Chris DeStefano, Matt Rogers and Anthony Smith. He also launched his first podcast, The Quad with Chris Young, in 2020. The weekly series where Young and friends Josh, Hailey and Ryan discuss sports, music and movies, has amassed over 150,000 listening hours since its debut.
"It's been fun to be able to show a different side of myself to people," Young says of his latest venture. "I grew up listening to the radio and imitating DJs voices and loved that whole aspect of the industry. It's been a way for me to kind of scratch that itch, so to speak. The podcast also gives people a glimpse inside my world and lets people get to know me in a different way beyond my music."
Young has remained a mainstay on country radio since his first No. 1 in 2009 with "Gettin' You Home (The Black Dress Song)." Written with Kent Blazy and Cory Batten, the song is a staple in Young's live show and one of his favorites to perform. While the steamy ballad marks Young's upward trajectory within the country genre, other career highlights include being asked to become a member of the Grand Ole Opry in 2017 and selling out Nashville's Bridgestone Arena in 2018. And in 2021, Young received a Tennessee Music Pathways marker in his hometown of Murfreesboro, TN, installed on the MTSU campus outside the newly renovated Chris Young Café, a learning lab and live entertainment venue that bears his name.
As Young gears up to release his eighth studio album, the follow-up to 2017's No. 1 Losing Sleep, the 35-year-old singer and Tennessee native nostalgically reflects on his past while optimistically looking forward to his future.
"I've been very lucky that all this stuff has happened to me at this point in my career. It just makes me want to work harder for whatever's going to come next," he explains. "I think there's a whole lot for me to look forward to with the next step and what the next chapter is for me as an artist. Hopefully it blows people away."
NIGHT IN THE COUNTRY RETURNS