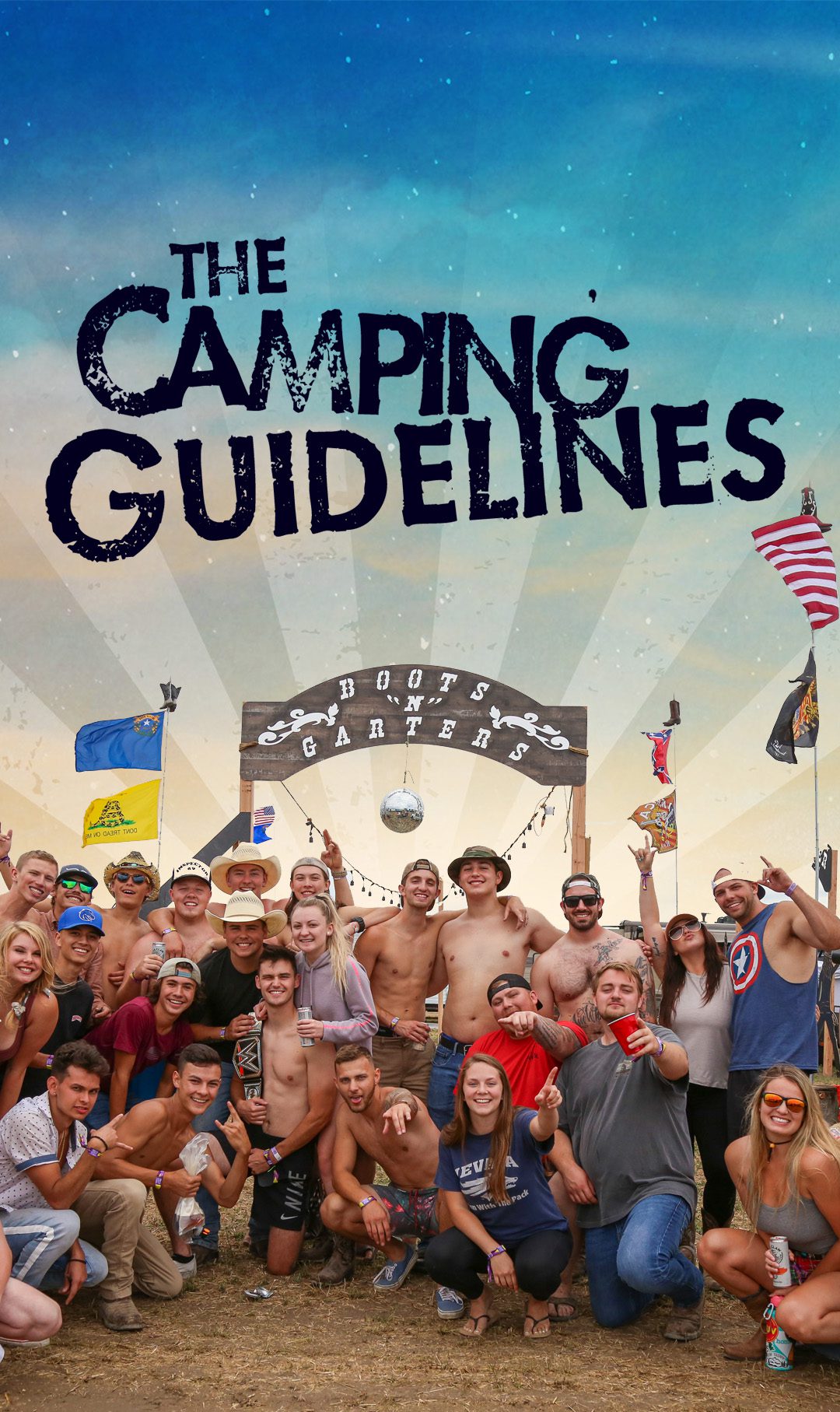 Pure Country music in the middle of Pure Nevada Farmland in Yerington, Nevada.
GENERAL INFO
All sales transactions are considered final. There will be no refunds or exchanges. Passes are non-transferable.
All campers must have a 3-day pass of General Admission, Superfan, VIP, Country Cabana, or Club 149 to enter the campgrounds. Campsites do not come with any passes. These must be purchased separately.
All minors must be accompanied by a parent or legal guardian
All vehicles and camp trailers will be searched upon arrival. Prohibited items may be surrendered and are considered forfeited upon entry through the camping tollbooths.  
Any surrendered items will not be returned regardless of whether or not a receipt is provided and/or statement made by any event personnel.
RV AND TENT CAMPING INFORMATION
Night in the Country Music Festival offers attendees RV and tent camping in several areas surrounding the festival site. Campsites are reserved 20×50 ft. spaces. All camping spaces will be purchased on a first come, first served basis. Once you have purchased a space you will be required to camp in that space. NO EXCEPTIONS. You will have the choice of picking your camping space. If you are camping with a group, you will need to purchase your spaces together or possibly lose the chance of camping next to your friends. Each camp site is allowed one steering wheel per site. We do NOT allow more than one camp trailer or vehicle per site. ALL TENTS, CAMP TRAILERS, and VEHICLES MUST FIT IN THE DESIGNATED SPACE AND IF NOT AN ADDITIONAL CAMPING SPACE WILL BE REQUIRED, NO EXCEPTIONS.
We have two different campgrounds, one for those of you who'd like a little more quiet (Quiet, Northern Silent & Southern Silent) and another for those who would like to continue the party after hours (Party & Southern Party)! There are no full hookups on site, dry camping only.
TRAILER DROP OFF
Patrons who plan on having their trailer dropped off before they arrive, please be aware that the trailer will still be searched and no alcohol will be allowed inside the trailer. If you plan on having your trailer dropped off for you, you will need email nevada@nightinthecountry.org to add a pass to your account. Trailer drop offs will take place on Wednesday July 21, 2021 from 3pm to 9pm. To pick up your trailer you will need to arrive Sunday July 25, 2021 after 3pm in order to gain entry into the campgrounds.
QUIET, SOUTHERN SILENT & NORTHERN SILENT CAMPING GUIDELINES
Please be considerate of your neighbor and observe the established quiet time of Midnight to 8:00 AM. Talking, singing, radios, televisions, etc. must be kept at a volume that will not disturb other guest. Please remember to turn off your generators as well so your neighbor can rest.
No amplified PA systems
No DJ's or Sound Systems
PARTY &  SOUTHERN PARTY CAMPGROUNDS GUIDELINES
This area can be noisy all night long. Unruly guest or those causing problems will be removed from the festival grounds and/or arrested.
VEHICLE & TRAILER SEARCHES
Be prepared and arrive early to NITC as we will be conducting vehicle searches. Prohibited items will be confiscated and are considered forfeited upon entry through the tollbooths. Confiscated items will not be returned regardless of whether or not a receipt is provided and/or statements made by any event personnel.
ITEMS NOT ALLOWED
When you are packing for your legendary weekend here are some items to leave at home.  Remember we search every vehicle upon entry.
No fireworks/sparklers and incendiary devices
No tiki torches
No fuel operated lanterns
No charcoal BBQ's
No charcoal fire pits or propane fire pits
No supplies for campfires
No pets – NITC complies with all state and federal laws in regards to service animals
No weapons (guns or knives)
No fire arms, ammunition or empty or full magazines.
No axes or hatchets
No drones or remote control aircraft
No drugs & drug paraphernalia
No medical and recreational marijuana
No golf carts, motorized conveyances, off road vehicles, autonomous vehicles, or dirt bikes
No focused light beams (laser pointers) or light beam devices
No flyers, stickers, or posters
No spray paint or giant markers
No kegs
No glass bottles including hard alcohol and beer bottles
No art cars
ITEMS RECOMMENDED
Remember to pack
5 gallons of water on hand
Fire extinguisher
Small condiment jars
Extra shoes
Earplugs (for sleeping)
Sweater/Hoodie ( it gets chilly at night)
Bug Spray
Hat for shade
A Bandanna ( sometimes the wind kicks up)
Sunglasses
Sunscreen
Soap, detergents, and shampoo
Toilet Paper
Lantern / flashlight / headlamp (and extra batteries!!)
Pedal Bikes – this will help you out during the day!!
ITEMS ALLOWED
Propane grills, gas BBQ's and pellet BBQ's
Dinner knives and small steak knives
Small camping pocket knives
Small condiment jars
Small glass mixing bowls or cooking bowls
Camping cooking utensils
CAMPGROUND VEHICLE RE-ENTRY
Campground vehicles will only be allowed to re-enter their campsite with the following time frames.
Thursday till 12 am
Friday till 7 pm
Saturday till 7 pm
If you don't make it back in time you will be directed to park in Parking Lot B.  Each time you leave you will need to come through camp check-in to get re-searched upon entry.
ALCOHOL LIMITS
Night in the Country would like you to party responsibly so there is a set limit on the amount of alcohol you can bring it.  We will seize ALL excessive amounts of alcohol.  Excessive means anything over the allotted amount listed below.
Each patron who is 21 and over is allowed to bring in a total of three (3) bulk items. Two (2) can be a beer or malt beverage and one (1) of hard alcohol.

A bulk item is defined as one (1) case (36 cans) of beer or malt beverage or one (1) 4 liter box of wine. Hard alcohol is one (1) 1.75 liter plastic bottle of hard alcohol.
Remember NO glass containers or kegs
GARBAGE
PACK IT IN
PACK IT OUT
Campsites must be kept clean at all times throughout the weekend.  Bag all trash and deposit in the dumpsters provided.  We appreciate your help in keeping our event clean.  Anything left behind will be considered garbage and will be disposed of.  If you are caught littering on any of the grounds you will be fined by the City of Yerington.
Please have your garbage bagged and placed outside your campsite for pickup on each day at the times below:
Friday – 9 am to 2 pm
Saturday –  9 am to 2 pm
Sunday – 9 am to 12 pm
COUNTRY CRUIZ'N
We will not be allowing personalized cars or trucks to cruise the campgrounds.  If you are caught country cruiz'n we will ask you to park your vehicle.  If you choose not to we will ask you to leave the event.
OH, AND!
All persons attending Night in the Country do so at their own risk. No liability is assumed by owners, managers, promoters, sponsors or others.  We are not responsible for lost, stolen, or damaged personal property of any kind.
Guests who sneak into the festival grounds without paying may be ticketed for trespassing. Any violators of the law may be subject to arrest.
No checks are accepted at the festival.
No drugs or underage drinking will be tolerated on any of the festival grounds.
Fighting will not be tolerated and you will be subject to removal and/or arrested.
DESIGNATE A DRIVER!
Night in the Country Music Festival supports the designated driver concept. We urge you to decide before your visit to the Festival who will be the designated driver for your group.
PLEASE DON'T DRINK AND DRIVE.
Any violation of these rules or the laws of the State of Nevada will cause you to be removed from the festival grounds and/or be arrested.
For the safety of all our guests and volunteers, we ask that our camping rules be observed.
These rules have been established to satisfy the diverse needs of our guests and to promote safety. We ask all of our guests to respect the rights and privacy of others. Thank you and have fun.
Night in the Country reserves the right to revoke the camping and/or concert passes of any individual and to further remove any person from the NITC venue and campgrounds in its sole and absolute discretion if it determines that such revocation and/or removal is in the best interest of the general public, concert attendees, campers, the individual involved, and/or Night in the Country  and/or its staff. Night in the Country reserves the right to add or amend any rules and regulations at any time.