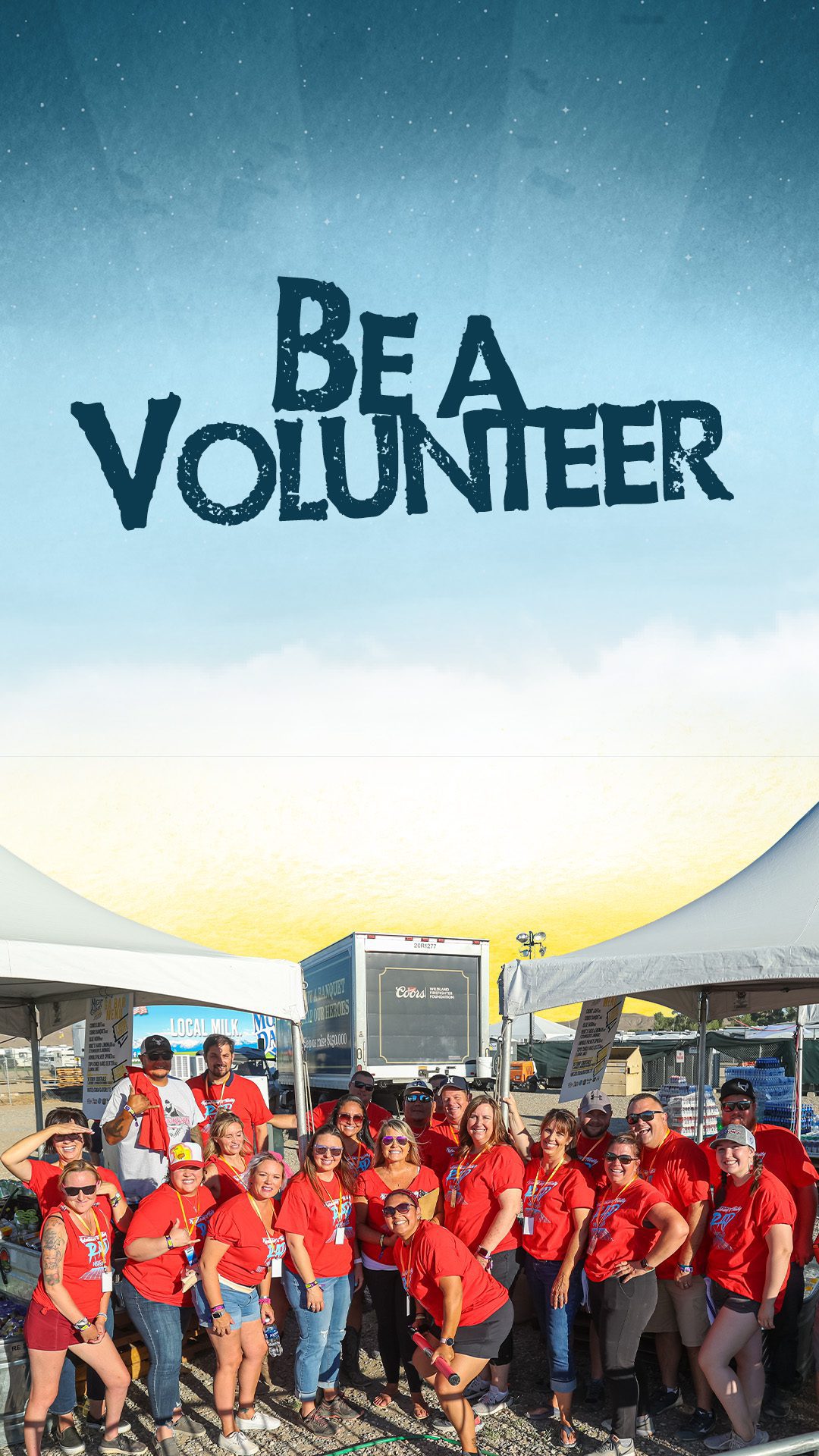 Away from the big city lights, the Night in the Country experience transforms the quiet farming town of Yerington, Nevada into a country music destination.
NIGHT IN THE COUNTRY RETURNS
One of the reasons Night in the Country is a successful event is due to our many volunteers who donate their weekend to ensure our patrons have a great time. Last year we had over 300 people donate their time and energy to help put on an amazing show for Night in the Country.

Night in the Country is able to offer our volunteers a chance to participate in the Give & Get Program.  This program was founded in 2013 and serves a unique purpose for non-profit organizations. With this program each volunteer will be able to work for an hourly rate ranging from $8-$12.  This will then be donated by Night in the Country to each volunteer's chosen non-profit organization.
VOLUNTEER INFORMATION
Volunteers are required to complete an online application form and pass a background check. The age requirement for volunteers is 18.  Applications will only be accepted through July 7, 2023.
DATES & TIMES OF SERVICE
Volunteer work various schedules depending on their specific duties and responsibilities. Most shifts occur the weekend of the event; however, some will begin work a week or two before the event and some will work after the event. While some volunteers work many more hours, we ask that volunteers work 12 hours in order to receiver full volunteer benefits. Your work dates and time schedule will be provided by the Volunteer Coordinator via email once you have been approved.
YOUR REWARD
For donating your time and energy we will be providing all returning volunteers with a volunteer pass for the Night in the Country.  This wristband allows entry into the venue for the weekend.  Along with the pass you will be provided with one free volunteer shirt. This shirt must be worn as a uniform and ONLY during your shift.  We also have available meals and refreshments during your working shift, if applicable. Limited Volunteer Camping is available at a discounted price.
**Volunteer packets, volunteer pass, and shirts will be issued at the volunteer center when you arrive on-site for your job shift. **
 Your job placement and shift times will be sent out for your review and acceptance.  The acceptance of your position needs to be completed before July 14, 2023.
**Parking passes are NOT covered with this volunteer program, but discounted pricing will be available. **
2023 NIGHT IN THE COUNTRY VOLUNTEER DESCRIPTIONS
Bartender: Responsible for serving alcoholic drinks to patrons. Must be able to utilize good customer service. Job can take place in the venue, VIP tent or FMS- after party. Must be 21 or older.  Service group members only.
Campgrounds- Check In: Verify and scan credentials of patrons upon entry to the campgrounds.
Campgrounds- Traffic Control: Help to facilitate and manage traffic lanes upon entry into the campgrounds.
Drink Ticket: Selling drink tickets to our patrons.
Ticket Gates: Monitor venue entry gates and ensure patrons have and use proper pass.
Venue Upkeep: Help to keep restrooms stocked and cleaned, help to maintain trash removal
Venue Ushering Services: Greet patrons; assist with orderly chair placement, monitor credential verification.
VIP Tent Upkeep: Help with a variety of tasks, such as cleaning up and serving food.
Will Call/Information Booth: Answer general questions, distribute will call passes, ticket sales (if applicable) provide overall customer service.
Water Truck Driver: Monitor the roads for dust control and fill the prepaid pools.
Night in the Country greatly appreciates your interest in the volunteer program, and we look forward to another great year!
Any volunteer related questions? E-mail us at volunteer@nightinthecountry.org