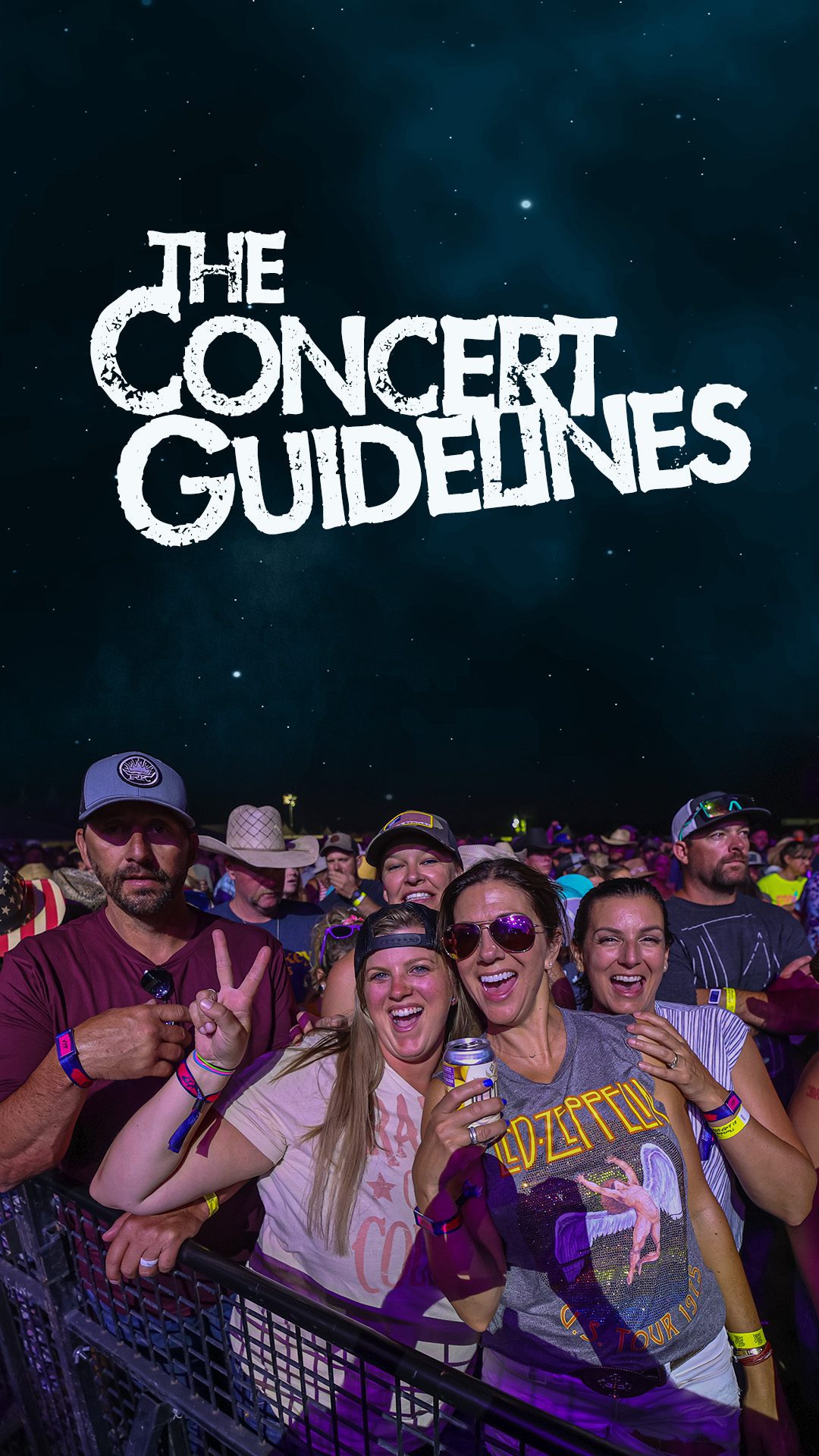 Away from the big city lights, the Night in the Country experience transforms the quiet farming town of Yerington, Nevada into a country music destination.
NIGHT IN THE COUNTRY RETURNS
SALES AND ADMISSIONS
All sales transactions are considered final. There will be no refunds or exchanges. Passes are non-transferable. Please be cautious if choosing to purchase from a third party. Passes can only be used once and there is no guarantee that the seller has not sold their passes to multiple parties.
EZ PAYMENT
Night in the Country offers you a chance to split your purchase into monthly payments. Just spend $125 or more and you can pay a little bit each month. Your payment due date will be on the 30th of each month.
DEFAULTED PAYMENTS
After 3 failed automatic attempts to process payment, Night in the Country will issue at least one warning via email and/or phone to the account contact information on file. If we do not hear back from you within 2 weeks, your order will be deleted without refund and the item(s) will be available for public purchase again.
ENTRY
All passes will be activated for admittance into the concert. All concert pass holders will receive a concert issued wristband, to be worn throughout the entire weekend. You are solely responsible for your pass. Night in the Country is not responsible for lost, misplaced, or stolen passes.
The concert venue gates schedule:
Thursday: 6:30 PM – 11:00 PM
Friday: 3:00 PM – 11:00 PM
Saturday: 3:00 PM – 11:00 PM
Club 149, Country Cabana, VIP, Superfan and General Admission pass holders will be allowed entry into the concert venues.
Full Moon Saloon Aftermath gates will open Thursday, Friday and Saturday immediately following the concert on the main stage.  This area is open to patrons 18+, with a valid age verification wristband.
Club 149, VIP and Country Cabana pass holders may enter through the Club 149/VIP entrance. All other patrons must enter through the main entry gates.
ALCOHOL
Valid state issued ID's are required. Anyone wishing to drink alcoholic beverages must go to an assigned Age Verification location and get the appropriate wristband each day of the event. Age verification will be required daily throughout the event. Anyone without a wristband will not be served alcoholic beverages. If consuming alcohol, you must have your wristband and valid ID with you at times, regardless of age.
If you are caught giving alcohol to anyone underage or if you are underage and caught drinking alcoholic beverages, you will be removed from the festival grounds and will face criminal charge.
SEARCH
Night in the Country has a clear bag policy to enter the concert venue only.  There will be a bag/container search conducted at the front gates, both into the concert and into the Full Moon Saloon.
These items will not be allowed in the concert venue.
No coolers
No outside food or beverages
No weapons of any kind ( includes pocket knives, pepper spray, etc..)
No professional photo, video, or audio recording equipment (no detachable lenses, tripods, big zooms, or commercial-use rigs)
No laser pointers or air horns
No large purses, bags or backpacks (over 12″x12″)
Failure to comply with search will result in denial of entry into the venue. This is strictly enforced.
CLEAR BAG POLICY
With a goal of providing a superior music festival environment, and outstanding customer service to our fans, we also have a responsibility in providing the same standards for the levels of safety and security to everyone who enters through the gates of Night in the Country.
With that in mind, and in an effort to enhance security measures, we will have a Clear Bag Policy in the concert area.
Similarly to football stadiums and many arenas across North American, up to 12″x 6″x 12″ clear plastic bags, standard one-gallon freezer bags, clear fanny packs, and small clutches and purses no larger than 5″x8″ will be permitted, while items such as backpacks, large purses, and coolers will not be allowed entry.
SEATING IN CHAIRS
Remember, the concert features open seating. Bleachers will not be provided, so it is strongly recommended to bring your own chair. CHAIRS ALLOWED ONLY IN DESIGNATED AREA OF THE VENUE.  This will be located behind the superfan pit area.
General Admission pass holders can bring a lawn chair for the venue or you can stand. Standard size lawn chairs and folding chairs are the ONLY acceptable chairs. No lounge chairs, foot-rest style chairs or blanket seating will be allowed. No wagons, chair caddies, etc. will be allowed into the concert.
Club 149, VIP and Country Cabana pass holders will be provided seating, therefore no carry-in chairs will be allowed.
ATM
ATM machines are available on site. Don't let the lack of cash spoil your weekend.
HANDICAPPED
We make every attempt to make facilities handicapped accessible. Limited handicapped parking is available. State issued permit is required. A general admission seating area is provided for persons in wheelchairs and one companion. Most of the concert area is level compacted dirt landscape. For more information please call 775-463-5114.
FIRST AID
Medics will be available on festival grounds. We also have a Medical Tent located on property.
PARKING
Parking is available on site. Parking passes can be purchased online or at the time of the event. If you purchase a parking pass this must stay in your car for the entire event. If your parking pass is lost or stolen, we will not be responsible for a replacement. PARKING ALONG THE MAIN HIGHWAY IS NOT PERMITTED, AND IS SUBJECT TO ENFORCEMENT ACTION AND TOWING.
CHILDREN
Children 6 years of age and under are admitted free of charge. All minors under the age of 18 must be accompanied by a parent or legal guardian.
PETS
Sorry, no pets allowed into the festival grounds. We comply with all state and federal laws in regards to service animals. Patrons requiring a service animal please contact Night in the Country in advance so we may assist you in your festival experience. This is done so voluntarily to enhance your experience.  When reaching out regarding service animals, please reach out to nevada@nightinthecountry.org.
RAIN OR SHINE REFUND POLICY
Night in the Country is a rain or shine event. Artists and times are subject to change. All sales are final, NO refunds, exchanges or returns. We are not responsible for lost, stolen or forgotten passes.
BEVERAGES AND FOOD
A wide selection of your favorite foods and beverages including soda and beer will be available inside the concert venue. Cold bottled water is also for sale at the event.
CAMERAS
Still cameras are welcome. Video cameras or any recording devices are strictly prohibited and will be confiscated. You will be asked to return such items back to your campsites or vehicles. We are not responsible for your electronic equipment. All video recordings are considered intellectual property, and will need to be erased or turned over to artist's staff before returning the electronic device to your vehicle. This is strictly enforced.
RESTROOMS
Portable facilities are readily available on the site. There are hand-washing facilities available. It is always advisable to carry a small bottle of hand sanitize to any public event. Lines may form in these areas so please be kind and patient to other patrons at the event.
SECURITY
Licensed Security and law enforcement personnel are on duty around the clock for the entire festival. Your full cooperation with them will be greatly appreciated. In the event of a problem or to report a crime, contact either a uniformed Police Officer or Event Security for assistance. Persons that are not complying with the festival rules of conduct will be subject to removal and/or legal trespass charges.
OH, AND DON'T FORGET!
All persons attending Night in the Country Music Festival do so at their own risk. No liability is assumed by owners, managers, promoters, sponsors or others.
No weapons of any kind are permitted in any area of the festival.
Personal ATV's and similar off-road cycles and devices are prohibited.
No checks are accepted at the festival.
No drugs or underage drinking will be tolerated on any of the festival grounds.
Umbrellas may be used between performances only. They must be taken down during any stage performance.
Designate a driver! Night in the Country Music Festival supports the Designated Driver concept. We urge you to decide before your visit to the Festival who will be the designated driver for your group.
PLEASE DON'T DRINK AND DRIVE.
These rules have been established to satisfy the diverse needs of our guests and to promote safety. We ask all of our guests to respect the rights and privacy of others. Thank you and have fun.
For more information, please contact:
Night in the Country
124 North Main Street
Yerington, NV 89447
775-463-5114
Night in the Country Music Festival reserves the right to revoke the camping and/or concert passes of any individual and to further remove any person from the Night in the Country venue and campgrounds in its sole and absolute discretion if it determines that such revocation and/or removal is in the best interest of the general public, concert attendees, campers, the individual involved, and/or the Night in the Country Music Festival and/or its staff. Night in the Country reserves the right to add or amend any rules and regulations at any time.
TICKET BOOTH
*LOST & FOUND
*INFORMATION BOOTH
*WILL CALL
Any items lost or found or for any questions or assistance, please visit us at the Will Call/Info booths. To retrieve a lost and found item, a valid state ID will be required.
Items returned to our lost and found are held for three weeks after the event.  Items that are not returned to patrons are either disposed of or donated to an appropriate charitable organization.  Night in the Country cannot be held responsible for lost or damaged items.
NIGHT IN THE COUNTRY CODE OF CONDUCT
As we look forward to yet another fantastic festival season, we would like to remind the world's greatest country music fans to be safe and have fun.
Night in the Country is committed to providing a comfortable and relaxing entertainment experience in which you can always expect to be treated in a consistent, professional and courteous manner by all venue, security and operations personnel. The safety of our fans will always be our number one priority!
Night in the Country staff and performers have the same rights, and fans are responsible for their own behavior. With that in mind, please remember to include this basic common-sense approach to your own Night in the Country code of fan conduct:
You are entitled to enjoy the NITC experience free from disruptive or inconsiderate behaviors or unruly actions.
Fans may not interfere with the event and/or performers in any manner.
Please refrain from using abusive language or obscene gestures.
Fighting, throwing objects or other behavior deemed detrimental to the experience of other guests will result in you going home early.
For those of you who choose to consume alcohol, please do so in a safe and responsible manner. Intervention with an intoxicated or impaired fan will be handled in a prompt and efficient manner.
Please comply with requests from festival staff regarding venue operational and emergency procedures.
Fans may not engage in unauthorized commercial activity while on venue property.
In helping to maintain these high standards, Night in the Country fans are encouraged to report inappropriate behavior to festival staff. Remember: SEE SOMETHING, SAY SOMETHING.
Violation of the Fan Code of Conduct may result in eviction from the venue without a refund.
Once again, and most importantly, be safe and have fun!