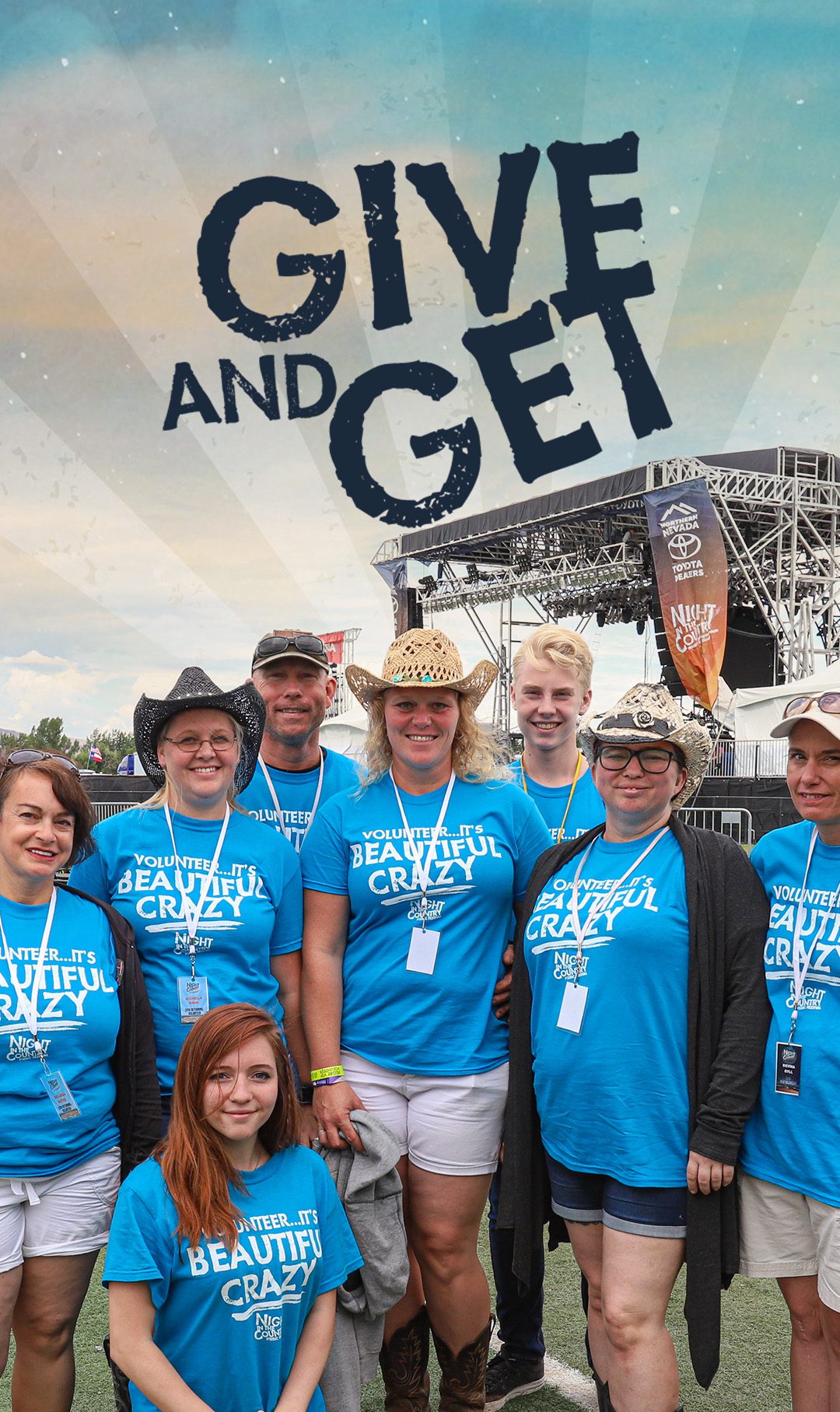 Pure Country music in the middle of Pure Nevada Farmland in Yerington, Nevada.
Night in the Country is preparing for our 21st Annual Music Festival this summer and we would like to inform you about this fantastic volunteer opportunity for 2022!
Night in the Country relies on various service clubs, organizations, and the generous individuals to help with different aspects during the festival, for example, beverages, parking, check in, ID checks, etc. There are countless service clubs and community based organizations who have asked to be a part of this event, and the Give & Get program is a way for this to happen. Last year we were able to donate almost $70,000 to 36 different organizations based all over the United States. The largest donation was back to the Boys & Girls Clubs of Mason Valley in the amount of $20,054 with volunteers donating back 4,824 hours.
Night in the Country has developed partnerships with local service groups who volunteer during the event. Last year the Yerington Rotary Club donated just over 307 hours, and we were able to donate $5,000 to their cause. This organization was established to serve the community of Yerington and bring together business and professional leaders in order to provide humanitarian service. Another wonderful organization who supported Night in the Country was Walker River Baseball. Their organization serves over 350 youth through their baseball program in Mason Valley, Schurz, and Smith Valley. Donations support these communities by helping purchase baseball equipment, uniforms, and field improvements. We proudly donated $5,000.
You can join with your service group or on an individual level and designate a non-profit organization to donate to. A volunteer would just need to be accepted into the volunteer program and designate an organization(s) they would like their time donated to. Once the volunteer completes their shift, Night in the Country will make a donation to the non-profit organization chosen in that volunteers name.
The rules are simple. The chosen cause must be a certified non-profit organization in order to qualify for our Give & Get. In order to be accepted into our program the volunteer must be at least 18 years old, fill out the volunteer application form and successfully pass a background check. Once the volunteer completes the prerequisites, they will be required to complete their volunteer shift(s) at the Night in the Country.
The rate of giving applied to the selected non-profit varies depending on where the service is provided and ranges between $8 and $12 per hour. Let's say 12 volunteers worked 8 hours each, at a giving rate of $12 per hour, and pledged their time to "Boys & Girls Clubs of Mason Valley". The Club would receive $1,152 in the names of those 12 amazing volunteers.
In appreciation of the service provided, volunteers will receive a shirt, up to two meals a day during working shifts, and a general admission ticket for the festival! We require a minimum of 12 hours worked to receive the ticket and to be invited back next year.
There is a limited amount of volunteer slots available and they are on a first-come, first-served basis.