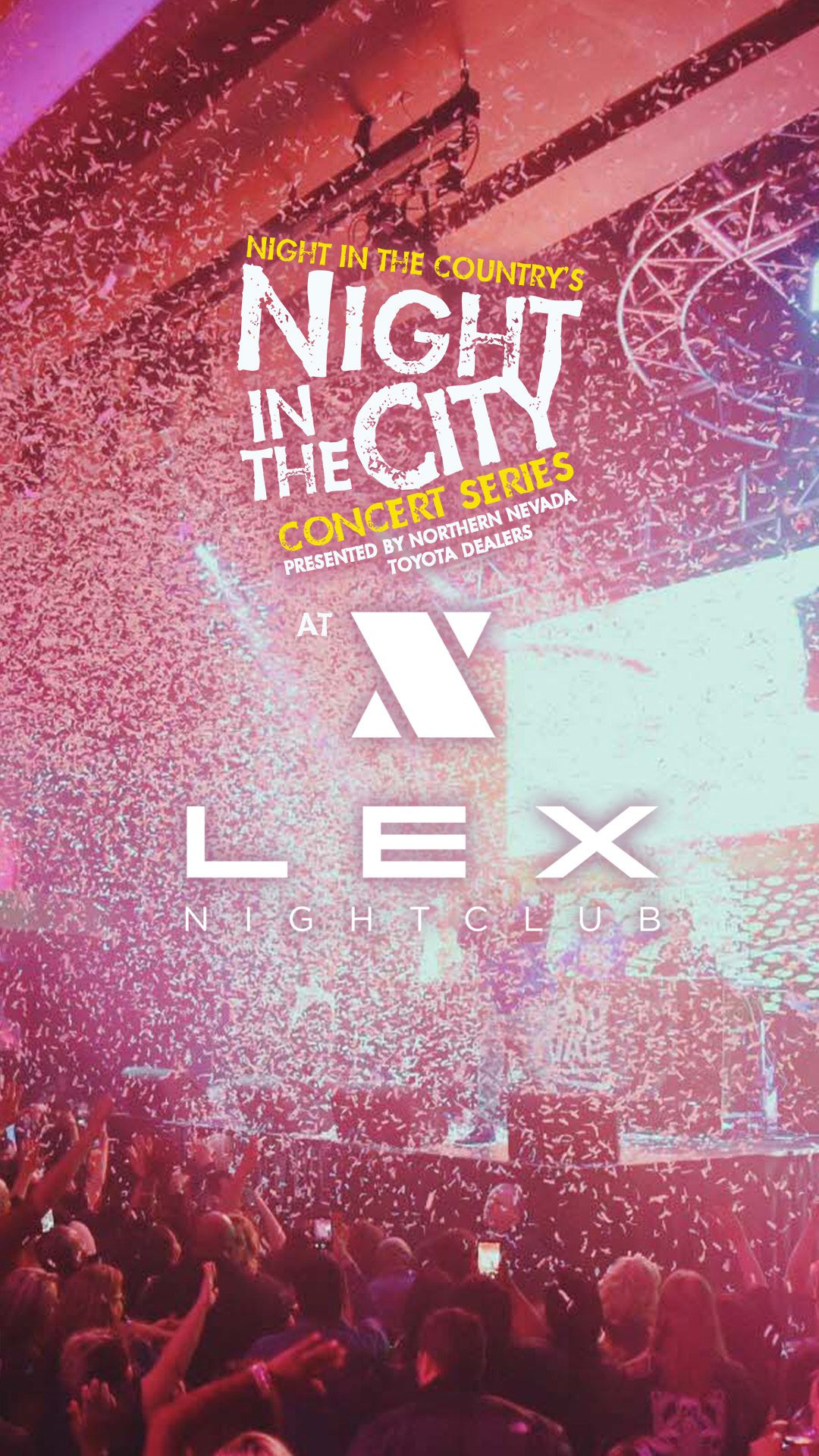 This is Pure Country.  This is Pure Nevada.
NIGHT IN THE CITY KICKS OFF
WESTERN NIGHTS AT LEX
Night in the Country is bringing Pure Country back to Reno with our Night in the City concert series! And we're kickin' it off big with Grand Sierra Resort's LEX Nightclub. We're launching LEX's brand new Western Nights on Thursday, March 30th with the one-and-only Tyler Rich! To celebrate, our friends at KBUL are giving away 4 GA Passes and a campsite to one lucky winner at the concert!
Every Thursday night, LEX will transform into your country destination. And throughout the year we're bringing an artist to Western Nights for a live country music experience. Get your tickets and get your boots on!
*Must be 21 or older
*Cowboy hats, ball caps, boots, and western wear is allowed and encouraged

THURSDAY, MARCH 30TH
DOORS OPEN – 7:00PM
TYLER RICH – 8:30PM

Northern California-raised, Nashville-rooted Tyler Rich found his love of music gathered around a Christmas tree alongside family singing holiday classics and Creedence Clearwater Revival. Fast forward to graduating college with a degree in Economics, Tyler moved to LA to pursue a different game of numbers–music–exploring various genres with songwriting and bands before taking the leap as a solo artist. Since, he has been named a 2018 CMT Listen Up artist, 2019 Pandora Artist and Rolling Stone touted him as "the newest member of country music's radio-minded incoming class, with a homecoming king's swagger and a valedictorian's songwriting smarts. "Amassing over 394.4M+ total global streams with his debut album TWO THOUSAND MILES (The Valory Music Co.), featuring GOLD-certified "The Difference," plus subsequent releases "Better Than You're Used To" and The Cadillac Three's Jaren Johnston-produced "A Little Bit of You." With "Thinkin' We're In Love," an English and French duet with one of Canada's most successful bilingual singer-songwriters, Marie-Mai, Tyler has announced a headline tour of the same name. Tickets are on sale now for his headline THINKIN' WE'RE IN LOVE TOUR. His music embodies the feelings all people have in common –the need for acceptance, devotion and a place to call their own–and that empathetic spirit extends to animals too. With Rich Rescues, Tyler visits local shelters while out on the road to raise awareness for pet adoption.
LEX NIGHTCLUB
THE PREMIER NIGHTCLUB IN NORTHERN NEVADA
The pinnacle of a series of more than $40 million in renovations, additions and remodels that Grand Sierra Resort and Casino has made since 2012, LEX Nightclub is an unprecedented nightlife venue in Northern Nevada, rivaling the country's top nightlife venues in Las Vegas, Los Angeles, Miami and New York.
Outfitted with the state-of-the-art lighting and sound systems, luxurious VIP table settings and a glass dance floor above the water feature, LEX Nightclub is the place to be and be seen. At an impressive 25,000 square feet and hosting top DJs and performers, LEX Nightclub has redefined nightlife in Northern Nevada.
LEX NIGHTCLUB
Grand Sierra Resort
2500 E. 2nd Street
Reno, NV 89595